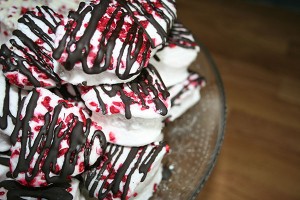 Our gourmet, handmade marshmallows are naturally free from fat, egg, gluten and dairy products. Produced by artisans, our hand-cut marshmallows contain fresh fruit and/or only the best quality Fair-Trade chocolate. Unlike the taste and texture of the traditional marshmallow, the quality and natural ingredients in our gourmet mallows bring a unique taste experience to any special event be it wedding, soirée, dinner party or just a treat for you and those for whom you care.
But, be warned, once tasted there's no going back. To quote a mum attending a children's party, on sampling a variety of Sicilian Lemon and Rippled Raspberry platters she exclaimed, "Oh how wonderful, a dessert for grown-ups". There has been a delicious excitement about our marshmallows being for grown-ups ever since.
We have some signature flavours that are available all year round with Caramel and Salted Peanut being one of our best sellers. Lemon Meringue happens to be one of my personal favourites because I love the strong lemon flavour that cuts through the scrumptious sweetness of the mallow meringue.
With the launch of our new flavours that include Banoffee Buzz, Classic Coconut and Luxury Chocolate Orange we have again ensured that our premier flavoured marshmallows taste as good as they look. But of course you will need to try them for yourself!
We ensure each and every mallow passes through our quality control for taste, texture and aesthetic satisfaction. Quality and natural ingredients are at the core of our philosophy and the result is something special - a superior marshmallow that has been lovingly created especially for you.
As a delighted customer said, "They taste just like happiness"
How lovely -  I'll have a double helping please!
To be honest I've never really been a fan of marshmallows, but then again, I'd only ever tasted the pink and white variety or those mini mallows that float on top of hot chocolate. On the other hand, I had always loved cake mixture! Therefore, when I originally thought about making marshmallows as something a little different, I thought there'd be no chance of me becoming a fan…
But how wrong I was!
Being a gin lover, one of the first marshmallow flavours I perfected was Bombay Gin. I took the pillowy white cubes, together with a few other varieties of mallows, into my work colleagues for a taste test asking them to complete a questionnaire for feedback. The mallows were an instant runaway hit! And so The Mallow Cake Company was born.
Once I'd given up my full time job to focus on my marshmallow making, I soon found my passion was perfecting gourmet marshmallows. I loved the challenge of making a naturally flavoured 'perfect mallow' that was firm but yet soft to the touch, light and fluffy on the tongue and full of fresh fruit and flavour. Here was a truly 'grown-up' treat, a quality product with seductive appeal. And from then on the rest is history.
As our fairly marvellous website designer and maintainer, Jonathan is usually fuelled by a toxic mix of coffee and Coke Zero.
Come the weekend though and he's rather partial to something more like one of his favourite tipples.
A good reason for this, as if he needed one, is picking something that does not match the taste-buds of his young children.
Although as they grow older and their tastes mature, such undivided luxuries become few and far between!